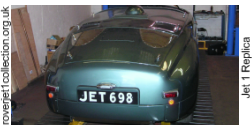 This car is a faithful body replica of the Rover Gas Turbine car originally built in 1949/1950 and modified to a more aerodynamic style in 1952. It held a world speed record for a gas turbine powered car in 1952 with a speed of 152.691 mph. Rover won the Dewar Trophy in 1951 for this work, in recognition of its outstanding pioneering achievement. It was the first time this trophy had been awarded since 1929.
This replica was constructed from a black 1952 Rover '75' by cutting off the roof and strengthening the remaining body in much the same way that Rover had done. There are many subtle differences from the standard car which have been incorporated in this vehicle.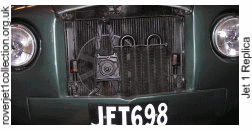 The bonnet and the wings have been rounded and lowered from the production car, a task carried out on the original by Abbey Panels who bodied 10 of the Marauders.
The suspension has been uprated with a heavier front anti-roll bar and bushes, uprated dampers and Jaguar Mk.2 anti-tramp/ trailing links welded to the back axle to stop the rear leaf springs winding up with power application. It has a Panhard rod fitted to laterally locate the back axle. The brakes are uprated to Rover '110' standard with front discs/callipers and larger rear drums. It also has a brake servo fitted.
The engine is from a 1988 Range Rover and is a 3.5 litre V8 running on unleaded petrol and with an early ECU. The chassis needed to be modified to allow the fitting of this engine and its altered exhausts which are a very tight fit in the confines of the front steering box and links. It has been fitted with twin exhaust systems from a Volvo, and they exit through the top lift-off panel.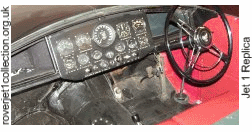 The dashboard and instruments are copies of the original and include an Engine Speed Indicator from a Spitfire and an Exhaust Gas Temperature Gauge from a Jet Meteor. The Starter Switch is from a Rover 'P3' and the Headlight Switch is from a Cyclops. The redundant Wiper Switch is identical to the original.
The Gearbox is an Automatic Borg Warner Type 65 unit fitted to the original Prop Shaft, and with a Rover 'P5B' differential fitted to a later axle casing with a ratio of 3.54:1. The car's original ratio was 4.9:1, but this would have caused the engine to run too fast. A thermostatically operated Kenlowe Electric Fan is fitted, as the engine bay is extremely tight with the V8 fitted and airflow and cooling is minimal.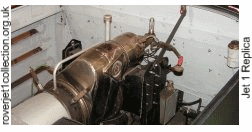 A Rover Gas Turbine 1S/60 unit is fitted in the rear engine compartment. Although this can be run on the battery starter, new exhaust boxes, made in Titanium for heat resistance purposes, would need to be fitted to use this unit.
The seating and interior is all custom-made to replicate the original. The seats should be slightly offset.
---
The Replica was originally commissioned and researched by George Hamill, and assisted in the task by Richard Nixey. Their project started around 2000 with the intention of commemorating the Golden Jubilee, in 2002, with a recreation of the original's record breaking run. Ultimately, the replica was put up for sale and acquired for the collection.{printbutton}