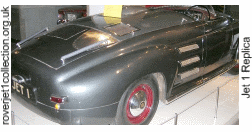 View News footage of the Original Rover JET 1
1950 - THE JET-AGE CAR - AND IT'S BRITISH
The P4 Cyclops donor shape is clearly visible in this press roll-out video.
Click on the images to view the clips.
1952 - JET CAR RECORD
Restyled body for the record attempt.
Note the removal of the central headlight and parking lights. This is the body shape reproduced in the replica.
1958 - THIS CAR IS HISTORY
The Original is driven to the London Science Museum, where it can still be seen today.
Note that the parking lights have been refitted at this stage, something keen-eyed enthusiasts comment on when seeing the replica.