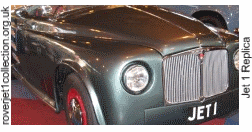 Replica at the Classic Motor Show 2009, displaying its replica registration plates.
The Replica joined several other P4s on the Rover P4 Driver's Guild stand at the NEC, to celebrate the 60th anniversary of the introduction of the Cyclops design.
The Pastel Blue Cyclops from the collection, can be seen in the background.